글쓴이 : SOONDORI
표제부 사진 유닛은 1956년, JBL(*)이 만든 Model 075 링-라디에이터이다. 마치 제트엔진처럼 생긴 멋진 모양에 Bullet Tweeter라고도 불리는데… RIng Radiator? '반지형 음 방사체'? 무슨 말일까?
* JBL : 스피커 세상의 명인 James Bullough Lansing의 축약어.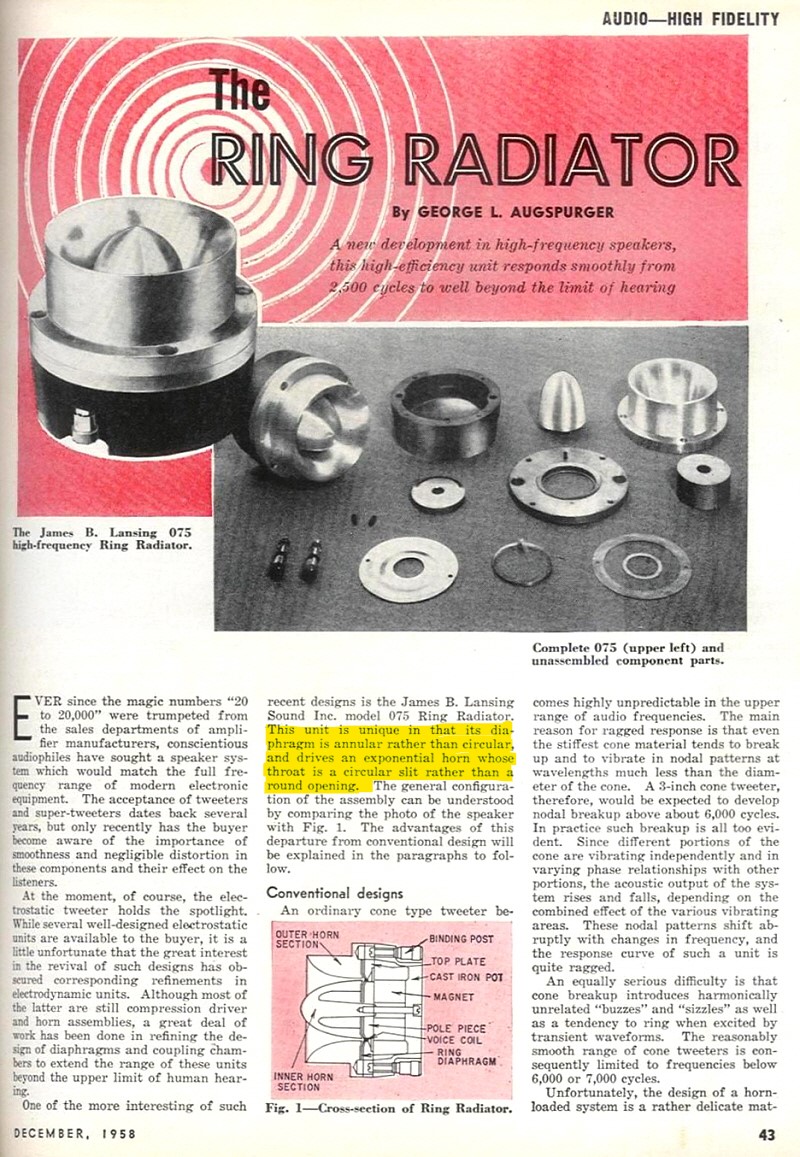 (1958년 판 소개 문서. 출처 : https://www.pinterest.co.kr/pin/471892867188784210/)
위 문서 아랫 문장에 핵심이 정리되어 있다.
"This unit is unique in that its diaphragm is annular rather than circular, and drives an exponential horn whose throat is a circular slit rather than a round opening. 다이어프램 즉, 진동판이 원형이 아니라 환형이라는 점이 특별합니다"
동그란 원판이 진동하며 높은 음파를 재생할 때 일정 한도 이상에서 진동 통제가 안되고 위상이 왜곡되는 문제를 해결하고자 중앙은 비우고 가장자리 근접한 일정 영역만 진동하게 만들면, 그러니까 마치 반지와 같은 환형(幻形) 구조를 취하면 더 빠르고 더 정확하게 고음을 재생할 수 있다는 J.B.L.氏의 논리.

1950년대 유닛 재료들의 물성 한계, 진동판에 가해지는 공기 압력, 판을 붙잡는 방법론, 진동판 자체 구조적 강성 등을 상상해보면 참으로 그럴듯한 해법이다.
아래는 참고용으로 등록하는, 아주 모던한 Scanspeak社의 링-라디에이터. 볼록 솟아 오른 부분은 진동판 안쪽 지지대 겸 Phase Plug 구조물로써 고정되어 있으니 당연히 진동하지 않음. 그러므로 주변 영역 즉, 환형 진동판만 움직인다.
이런 유닛은 방사각이 큰 일반적인 Dome형 트위터에 비해 지향성이 크기 때문에 청취 위치, 스피커 배치 각도에 유의하는 게 좋다. (표제부 사진 출처 : https://www.hifido.co.jp/sold/?KW=&G=0206&LNG=E&O=600&L=50&C=12-64753-35036-00)
* 관련 글 : JBL SA-600 인티앰프 그리고 Lancing
---
잠시라도 언급이 되었으니까… 다음은 자연인으로서의 JBL, 회사로서의 JBL 업력에 대한 정리. (출처 : https://jblpro.com/en/history)
1902 – Birth of James B. Lansing in Illinois, U.S.
1927 – Lansing Manufacturing Company founded in Los Angeles
1934 – Douglas Shearer of MGM heads team which designs the first practical loudspeaker for motion picture use. Lansing builds components for the Shearer horn system which becomes industry standard.
1936 – Shearer-Lansing system awarded citation by Academy of Motion Picture Arts and Sciences
1937 – Lansing creates the "Iconic" two-way compact design – the first studio monitor
1941 – Lansing Manufacturing Company acquired by Altec Service Company
1943 – Lansing develops the Model 604 Duplex 15" (38cm) co-axial loudspeaker
1944 – Lansing and Hilliard redefine the reference theater speaker with the "Voice of the Theatre"
1946 – Lansing leaves Altec and founds a new company, James B. Lansing Sound Incorporated
1947 – JBL develops D130 15" (38cm) speaker with the first commercial use of 4″ (100mm) voice coil
1949 – James B. Lansing dies; William Thomas becomes company president
1953 – Commercialization of Acoustic Lenses developed by Bart Locanthi
1954 – Model 375 compression driver, first 4" (100mm) diaphragm commercially available
1955 – Model 075, the first ultra-high-frequency ring-radiator transducer
1957 – Introduction of JBL Paragon stereo console speaker system
1959 – Leo Fender integrates the Model D130 into his guitar amplifiers
1962 – JBL creates the first 2-way studio monitor to utilize a high-frequency acoustic lens
1968 – JBL launches the Model 4310 three-way bookshelf studio monitor speaker, later the 4311
1969 – Sidney Harman acquires JBL, ushering in a period of accelerated international growth
1969 – L-100 consumer version of the 4311 is launched, which sells over 125,000 pairs in the 1970s
1969 – JBL speaker components deliver the sound at Woodstock and many other rock festivals
1973 – 4300 Series studio monitors launched, including the industry's first four-way designs
1975 – Model 4682 thermoplastic " Strongbox " Line Array
1979 – Diamond surround technology for control of high-frequency resonances in diaphragms
1979 – Development of the Symmetrical Field Geometry (SFG) magnet structure
1979 – Cabaret® Series portable systems for musicians debuts
1980 – Bi-Radial® Constant-Coverage horns
1981 – The first Bi-Radial® studio monitor, the 4435, for the recording studio
1982 – Titanium is first developed as a material for high-frequency diaphragms
1982 – Model 4675 power-flat cinema system introduced, first system to be approved by THX®
1986 – The first models of Control® Series unveiled
1990 – Vented Gap Cooling technology reduces low-frequency transducer temperature
1991 – The first pro-audio speaker using a neodymium magnet in Array Series
1995 – Birth of the EON molded-enclosure integrated, powered portable loudspeakers
1995 – First neodymium Differential Drive® Dual-voice-coil/Dual-magnetic-gap cone transducers
2000 – Creation of VerTec® Line Array system with RBI – Radiation Boundary Integrator
2000 – ScreenArray® three-way cinema systems with Screen Spreading Compensation
2002 – JBL Engineers receive Scientific and Technical Awards from the Motion Picture Academy
2005 – JBL awarded a Technical Grammy® by National Academy of Recording Arts and Sciences
2006 – VRX Constant-Curvature Line Array introduced
2008 – CBT Series Constant Beamwidth Technology column line arrays developed
2011 – D2 Dual-Diaphragm Compression Driver developed, first used in VTX Line Array
2012 – M2 Studio Monitor with Image Control Waveguide, D2 driver and low-TCR voice-coil woofer